It's no secret that the trend is towards recycled materials! Many brands are vying for ingenuity and creativity to stand out by offering new eco-responsible alternatives to consumers. Shoes are a perfect example: from small French companies to streetwear giants, everyone is investing in responsible innovation. In this article, you will find a selection of shoes made of recycled materials to buy or to offer!
Faguo
Faguo is a French brand that specialises in designing a wardrobe made of recycled materials. It wants to "systematize a more circular fashion, less polluting fashion". With the main objective of controlling its carbon footprint, the brand proposes many ecological actions such as a more environmentally friendly transport, the possibility of recycling, transparent production and offsetting its CO2 emissions by planting a tree for each piece made. On the website, you can find a large choice of shoes for men and women. They range from low top trainers to beautiful leather boots.The brand also offers a wide range of sizes from 36 to 49 for better customer satisfaction. If you want to get a pair of sneakers with a trendy and minimalist design that respects the environment, go and have a look at the French brand's website to find your favourite !
OTH
Making sneakers with a recycled sole, you had to think about it! It was the wonderful idea of the creators of the brand OTH. They based their eco-responsible innovation on a product of our daily lives: tires. So, after two years of research and development, the brand can produce three sneaker soles with one tire! An original idea, ethical and respectful of the environment by minimizing the carbon footprint during the production of basketball.
Adidas
A streetwear giant, Adidas goes green by developing special products and collections with ecological and/or ethical implications. Enough to prove that the big guys can make things happen in the eco-responsible fashion market. This includes the launch of a pair of sneakers made from plastic recovered from the oceans in collaboration with Parley for the Oceans. Composed of 95% recycled fishing nets and 5% polyester, this shoe proves that it is possible to create products with an innovative and environmentally friendly concept while offering an original and trendy design.
TBS
With more than 40 years of history, Terre Battue Synthétique develops with modernity while keeping the influence of its heritage. The iconic French shoe brand is reinventing itself based on a commitment to more sustainable and responsible fashion through the Eram Group's CHANGE for GOOD movement. TBS constantly adapts to innovate and produce better while offering urban shoes with bold and avant-garde design. It affirms its desire to be an actor of change and has become aware of its responsibility as a brand to produce better and to reduce its societal and environmental impact. With its RESOURCE sneaker, TBS confirms this commitment: ethical, vegan and made from recycled rubber, it is infinitely recyclable. A jewel to wear without moderation to the iconic signature of the 20 points brand TBS.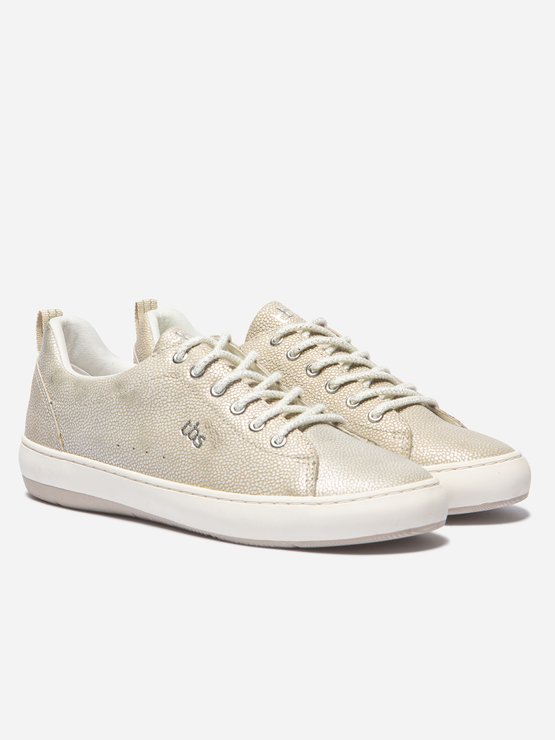 Minuit sur Terre
In another article, we showed you the Minuit sur Terre brand and its commitment to the production of ethical shoes made from innovative materials such as apple leather and grape leather. Since its creation in 2017, the brand has not lost sight of its main objective of reconciling ethics and fashion: it regularly renews its collections brilliantly! Thus, in addition to using vegan leathers, the brand uses recycled materials. Laces are made from recycled plastic bottles recovered from the Mediterranean and most of the soles are made from recycled cereals. With such trendy shoes made of innovative and environmentally friendly materials, the brand offers exceptional products to be purchased urgently.
---
Subscribe to our newsletter for more articles!
For more information contact us here or by email at contact@greenybirddress.com
---